Summary
BAC shares are up over 100% in the past 12 months (from the recent trough).
Dividend investors should consider reallocating capital into other stocks in the sector with more attractive yields.
A covered call strategy offers investors an attractive way to selectively take profits.
I'll just cut to the chase here on Bank of America (BAC)…it's probably time to take some chips off the table.
The stock is up over 100% over the past 12 months and the dividend yield is approaching 1%.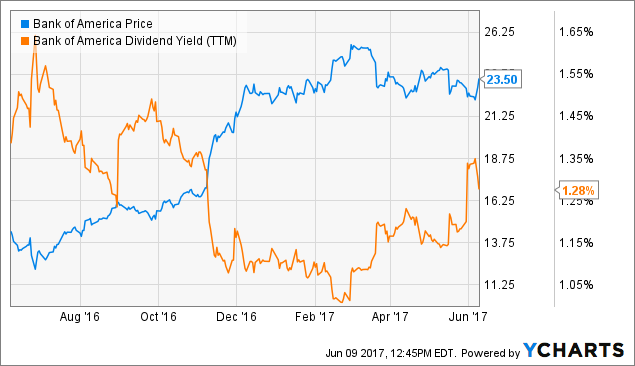 BAC data by YChartsAs you know, we are in the midst of a series discussing our four pillars of a long-term investment plan. In Part 2, we highlighted one of the most important pillars…exit strategy/risk management.
Selling a big winner is almost as hard as taking a loss for most investors, but it's a prudent thing to do when managing a long-term dividend portfolio. Taking chips off the table is really just a rebalancing exercise (and most professional money managers do it every day).
I'll preface the BAC discussion with a quick note that a decision to take profits isn't always purely based on valuation. In fact, we don't currently view BAC shares as necessarily «overvalued,» but we do believe the risk/reward dynamics have shifted (i.e., there is likely more downside risk in the stock than upside potential at current levels).
All that said, I truly believe it is essential for investors to have an exit strategy plan. Not only for losers, but also for winners.
This is one of the major reasons that we recently established our Action Ratings, which classifies a stock into one of four categories: 1) Avoid, 2) Buy, 3) Neutral, and 4) Profit. These Action Ratings help us on both the exit and entry side of the equation.
Given the recent run in the stock, it's not surprising that we currently have a «Profit» rating on BAC: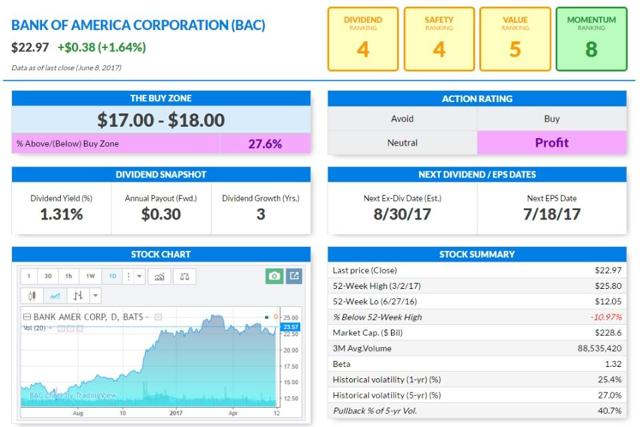 Source: Dividend Investors Club / Parsimony Investment Research
With that in mind, BAC investors have a few choices right now:
Do Nothing (i.e., collect a measly dividend and accept the downside risk)
Take Profits (i.e., trim back your position or exit completely)
This is where the debate thickens. Most passive «buy-and-hold» investors will likely choose option 1…and most active investors will lean toward option 2.
But there is a third risk-management alternative here that could be a nice middle ground for everyone…a covered call strategy.
A covered call strategy is a nice alternative for a stock like BAC because you can get paid to set an upside limit order (to sell). So you don't necessarily have to sell at current prices, but you agree to sell the stock at a higher price if the rally continues.
That said, if the stock does decline, you have partially offset this negative fluctuation with the option premium you collected.
Note that we often use our Profit Rating as a metric to screen for good covered call candidates.
Covered Call Basics
The covered call is a strategy in which an investor writes a call option contract (for an equivalent number of shares) on a stock that the investor already owns. This strategy is the most basic and most widely used strategy combining the flexibility of listed options with stock ownership.

Though the covered call can be utilized in any market condition, it is most often employed when the investor desires to either generate additional income (over dividends) from shares of the underlying stock, and/or provide a limited amount of protection against a decline in underlying stock value.

While this strategy can offer limited protection from a decline in price of the underlying stock and limited profit participation with an increase in stock price, it generates income because the investor keeps the premium received from writing the call. At the same time, the investor can appreciate all benefits of underlying stock ownership, such as dividends and voting rights, unless he is assigned an exercise notice on the written call and is obligated to sell his shares. The covered call is widely regarded as a conservative strategy because it decreases the risk of stock ownership.
Source: Options Industry Council
Choosing the Right Strike
There are two key components to look at when choosing a strike price for a covered call strategy:
Premium Yield (%) — The additional yield generated by the call premium (which is your downside protection from the current price). The more volatile the stock, the higher the premium (i.e., the higher the risk). An investor should typically target a 2.0%-4.0% premium yield for options with 2-3 month expirations.
Upside Profit (%) — The upside profit, which assumes that the option is assigned at expiration, is equal to the premium received plus dividends received plus the difference between strike price and current price. The more volatile the stock, the higher the expected upside profit. An investor should target at least a 4.0% upside profit potential for this strategy (which isn't bad for an 2 or three-month return).
Let's take a look at some covered calls for BAC.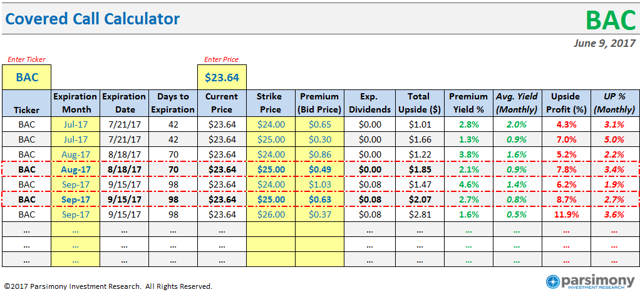 In the table above, we have analyzed the key covered call metrics for BAC across three different strike months.
The August and September $25 strikes appear to offer the best combination of premium yield, upside profit, and time to maturity (see the red box).
If an investor chose the Aug. $25 strike for example, they would generate a premium yield of 2.1% (which is equivalent to 162% of the annual dividend yield) in less than three months…all while maintaining an upside profit potential of 7.8%.
As you can see, covered calls offer investors a nice alternative to outright selling an stock like BAC that has rallied significantly.